Encourager les projets pionniers
et l'excellence au service de belles causes
To encourage pioneering projects
and excellence at the service of fine causes
Home > Actions that mean most to us
Français | English
Actions that Mean Most to Us
Since the 1920s, the Drs Bru have always striven, through their research, to relieve suffering. In 1993 Dr Nicole Bru created the Institut UPSA de la Douleur as an ethical and humanitarian extension of the UPSA firm, to promote better pain treatment worldwide. The Fondation Bru wishes to continue the fight against pain through its support of various remarkable initiatives.
The actions supported by the Fondation Bru include:
Cancer research

Founded in 1989 by Professor Victor Izraël and Dr Nicole Bru, APREC (Alliance Pour la Recherche en Cancérologie) has as its vocation the promotion and development of research into all forms of cancer, in partnership with the major national and international research groups. The Fondation Bru financed the fitting out of APREC's new offices at the Hôpital Tenon in Paris.
To find out more: www.aprec.com
The building of dispensaries in Burma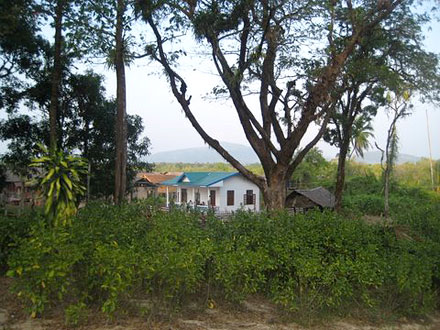 Dispensary of the Franco-Asian Medical Association
The Franco-Asian Medical Association, AMFA, created and directed by Professor Patel, has been working for many years to further the medical autonomy of those Asian countries in need of it. It provides equipment, trains medical teams, transmits good healthcare practices... The Fondation Bru has funded the setting up of several dispensaries in Burma and took part, in 2011, in a "hygiene" operation to promote the eradication of scabies.
To find out more: www.amfa-france.org
The development of Handi'Chiens

The mission of Handi'Chiens, an organisation created in 1989, is to supply specially trained dogs free of charge to children and adults with physical disabilities. In 1999, Dr Nicole Bru personally financed the creation of the Handi'Chiens Centre at Marcy-l'Étoile, near Lyon. Since 2005, the Fondation Bru has supported the work of the organisation through funding and active participation on its board of directors.
To find out more: www.handichiens.org