Dr Nicole Bru, researcher and entrepreneur
"What counts in life is one's capacity to influence the course of things!" That is the belief of Nicole Bru, doctor, researcher and businesswoman.
To pay for her medical studies, Nicole Bru joined UPSA in 1971 in the training department, as a member of the Sales Promotion team. "The pharmaceutical industry fascinated me from the start because of the many different disciplines that need to be mastered: research, marketing, production, law, ethics … and with Man, and the possibility of alleviating human suffering, at the heart of it all." She was to remain with the firm for more than twenty years, during which time she regularly returned to her studies whenever she felt the need to master essential management techniques. That included training at the Centre de Perfectionnement aux Affaires (CPA) in Paris (now the HEC Executive MBA).
Within UPSA, Dr Nicole Bru showed determination and a passion for innovation. Her distinguished career led her to the position of director of research, then to the directorship of the firm itself, alongside Dr Jean Bru, whose wife she had become in 1980. She was in charge of scientific affairs and strategy when her husband died suddenly in 1989. She decided to take the helm.
In her five years as chairman of the UPSA Group, the turnover doubled. In 1994 Dr Nicole Bru was voted "Businesswoman of the Year."
The same year she sold all her shares to the American biopharmaceutical group Bristol-Myers Squibb. She immediately reinvested in pharmaceutical research, which is so important to her; she developed the Halisol Group and, once again, in the years to come she doubled its value.

Perpetuating values
As soon as she retired from the world of industry, Dr Nicole Bru decided to combine her insatiable thirst for enterprise with her strong commitment towards worthy causes. Thus she created the Institut UPSA de la Douleur (IUD) and the Association Docteurs Bru.
Wishing to perpetuate the memory of the founders of Laboratoires UPSA by leaving "something useful and sustainable", Dr Nicole Bru created the Fondation Bru. "To be present where there is no one else, to support excellence and ambitious pioneering projects aiming to serve fine causes": such was the course she set for the foundation, which now brings together all of her sponsorship activities. Thus the values of the entrepreneurs and researchers, after whom the foundation is named, will live on.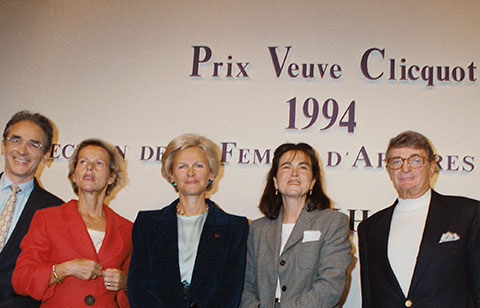 Businesswoman of the Year – Veuve Cliquot Prize, 1994
Nothing has any meaning if it is not at the service of Humanity
Man and his environment are at the heart of all the actions supported by the Fondation Bru. In very different fields, notably education and research, culture and heritage, the foundation supports ambitious pioneering projects that are likely to further significantly the cause they serve.